The Engineer and I procured a bottle of absinthe and decided to celebrate his first tasting of the drink with an evening of boozing, playing Scrabble, and watching
Moulin Rouge
.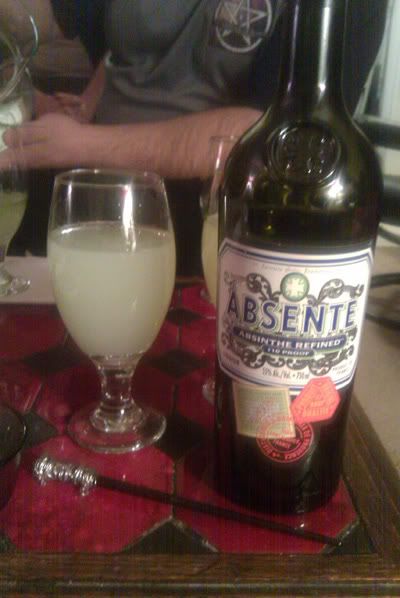 ( S.A.T.U.R.D.A.Y. Night! )
We each had one glass and were just
soused
. And while I've had a variety of absinthes before this, ranging from rotgut hootch steeped in a mason jar to some of the better French kinds, this was the warmest, happiest drunk I think I've ever had.
Absente's not the best I've ever tasted, but it had Vincent Van Gogh on the box in this trippy tryptech and came with a spoon shaped like the Eiffel tower. It was also almost thirty dollars cheaper than the other three kinds available at the store we went to. The Engineer originally wanted to go with one of those, but I told him it would be best not. If it turned out he didn't like it at all, it wouldn't be as much of a loss for him.
Luckily, he enjoyed it. And now seems to be hurtling into the midst of a new obsession, as he's already started researching other brands to try and joined the Wormwood Society's webpage. hee.